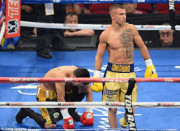 Emulate a Top Fighter!
Have you ever watched your favourite boxer perform and thought "I want to be able to do that"?
If you have ever taken part in a spar or a competitive boxing match, then the answer to that question has to be a resounding "Yes".
If you use boxing training simply to keep fit, maybe some shadow boxing and heavy bag work, then playing copycat is just as important for you.
My view is that by seeking to emulate a boxer in shadow boxing or on the heavy bag pushes you to the limits and enables you to get much more out of your session.
In this article, I am going to use video analysis to help you give your boxing training session a new lease of life by incorporating the skills of the best!
I have a specific way of grouping the individual core skills of boxing so that the student of the sport may approach learning in a very structured way.
I call these groups of skills "boxing skills buckets".
All of the top boxers use skills from the skills buckets, using them in different ways to achieve success.
By using the boxing skill buckets principle it becomes much more straightforward to dissect a fighter's style and glean usable aspects for your own style. To show you how to do this I am going to analyse a video of a top fighter.
So, which fighter have I chosen to examine?
Well, there is a certain Ukrainian called Vasyl Lomachenko. Lomachenko is a double Olympic champion who has turned over to the professional ranks.
To those in the game, it is one of the most anticipated professional debuts in living memory. He is quite simply one of the finest fighters ever to step into the amateur ring, and his lengthy list of honours proves this.
Not wishing to rest on his laurels, Vasyl Lomachenko stepped into the professional ring on October 12th 2013, competing against the experienced and dangerous Mexican Jose Ramirez.
One more thing before we start. This is not the first time I've written about Lomachenko. Let's just say that I never tire of watching him perform.
Two previous articles that you may wish to look at are Body Punching in Amateur Boxing and How to Deal with Counter Punching.
There is a serious amount of learning to be done from Mr Lomachenko, and I'm going to help you along the way.
The fight begins at 6:25. The principle is simple really. Watch the fight through with the aim being to simply enjoy the spectacle. Then, watch the parts of the fight identified within each boxing skills buckets below.
Take your time, then pick out what you are going to use in your next boxing training session.
Here's the video:
Boxing Skills Bucket #1 – Boxing Footwork
At the core of every great amateur boxer is movement in and out, also referred to as the push in/push away. I call this move 'The Stinger' (you will be familiar with this if you have signed up to the free boxing drill videos.
Look at 7:21 where Ramirez advances and Lomachenko pushes away and then triggers straight back in. He does it again at 8:46. It's simple, precise and effective and demonstrates perfectly the principle of range in boxing, taking the fighter from long range to the edge of range and back again in the blink of an eye.
Whilst the push in/push out is used extensively, another core part of the Lomachenko style is pivoting. Lomachenko constantly uses an efficient pivot to deflect the incoming attack and set up his own. 10:16, 11:55, 12:13 etc.
Lomachenko also uses lateral and diagonal movement extensively. It's as unorthodox as it is effective. Look at 12:33, a slip is used as a feint and then a diagonal movement backwards and a diagonal movement forward sets up a two-handed attack.
A key theme here is that Lomachenko wants to manage and control range. He wants to dictate at what range to box, and he is most comfortable at long range. He is more than happy to retreat in quite a passive manner only to fire back at the right moment. Future opponents might do well to notice this and should look to drag Vasyl into close range brawling. Easier said that done though.
Boxing Skills Bucket #2 – Punches
Lomachenko is a text book puncher. Every punch thrown is brilliantly precise in conception and execution. The obvious demonstration of this is the back hand uppercut to the body at 8:23. This shot is not only difficult to see coming (because of the low trajectory at close to mid range), it's very difficult to defend. So Lomachenko drops Ramirez here and subsequently virtually disembowels him at 22:20 with exactly the same shot. That back hand uppercut to the body is one bitch of a shot.
Vasyl is also a great exponent of switching attacks from body to head and vice versa. At 9:28, Lomachenko not only switches the attack from body to head but also deploys another favourite tactic to pierce defences, the channel shift. This involves varying the angle that the shot takes to the target. In this instance we have a back hand hook to the body followed by a lead hand hook to the body and finishes off with a lead hand uppercut to the head. So we have two shots to the flanks (hooks) followed by the switch through the central channel (uppercut).
Lomachenko performs superbly at close range, mid range and long range when punching. Every shot is powerful and precise. It's also worth recognising that whilst he does use single shots, the majority of Lomachenko's punches arrive in clusters of 2 and 3. You can see this throughout and it is always performed with the body/head and/or channel shift principle at play. Look at 7:30. I rest my case! Another example? 13:11– straight back hand, lead hand long range uppercut, straight back hand mid range lead hand hook. CLASS!!!!!
One more thing. Look at the straight back hand at 15:52. It's virtually a work of art. The drive from the rear foot, the rotation of the hips and the piston-like arm travelling a perfectly line to and from the target. Speaking as a coach, that is a perfectly executed punch. The fact that it actually misses the target by a whisker is academic in this instance, after all we can't land all of the time. For good measure though he lands right on the button at 18:21 🙂
Boxing Skills Bucket #3 – Defences
Lomachenko, whilst showing plenty of flare, never ignores the basics that always work well and this includes defensive blocks. The double arm block is used extensively by Vasyl throughout. It's simple and safe. 7:39, 8:18 etc. etc. The list goes on. He does not 'hide' behind this defence, he merely takes cover momentarily ready to launch subsequent vicious assaults (for 'assault' see Boxing Skills Bucket #2).
At 9:04, we can see Vasyl use defensive blocks to the incoming hooks from Ramirez, then he uses a wonderful pivot to alter his position to the opponent. It's wonderfully simple and provides incredible leverage to fire counter punch hooks and uppercuts in order to punish the opponent for trying to hit you.
Boxing Skills Bucket #4 – Body Movement
Slips, rolls and ducks can be used in defensive and offensive situations. At 8:55, Lomachenko executes a perfect outside roll and for good measure adds in a push away at the same time as a lead hand hook. Instinctive actions combining defence and attack to deal with a committed attack from a determined opponent. I also really like the rolls performed at 9:39, following on from his own straight back hand, ending with a pivot to wheel away from danger.
The passage at 13:13 – slip, pivot, roll out then roll back in. This is not achieved by mistake. This is endless drills, no mystery. He uses his body movement to perplex opponents. It becomes pretty miserable when 9 out of 10 punches you throw miss. Build this type of body movement into shadow boxing and heavy bag work and it will pay off…guaranteed!
Ducking is an incredibly simple skill to perform, in fact it's one of the first body movements that I teach to boxers. Lomachenko uses it lots, both from a static position as a feint and during movement backwards in a defensive mode. There is a consistent theme here. Body movements create defensive solidity and offensive opportunity.
Now Read Between the Lines!
So what about bringing some of these skills together? There are masses of examples of Lomachenko combining the various skills, but I'm going to pick out some of the one that really catch my eye. It's up to you to identify others, think of it as homework 🙂
21:29 to 21:35 – A clear demonstration of bringing together powerful punching, with channel shifts and short explosive foot movements. That's how we combine skills to result in high impact boxing. Enough said.
Whilst I recognise that Lomachenko is a southpaw, I haven't made a point of discussing it here. He is quite an unconventional southpaw as he moves to his left quite a lot. But he does this passively by backing away from the orthodox back hand. He relies on explosive movement and superbly crafted angles to dominate an opponent rather than the traditional southpaw 'advantages' like lots of jabs and moving to the his left to stay away from the orthodox power back hand.
A final word on feinting. Vasyl Lomachenko, as with other top performers, is constantly feinting. It's an art form, used to create confusion and opportunities. One of my favourite sayings for me describes what Lomachenko does:
"Boxing is a pressure business. If you are not punching you should be feinting, and if you are not feinting you should be punching"
So there you have it. A simple way to analyse a boxer in a structured way and use what you learn for your own ends. Let me have any questions or comments below.
Cheers
Fran
by