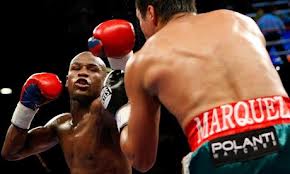 I think it's fair to say that Floyd Mayweather Jr is the most talked about and most written about boxer since Mike Tyson. I know that many feel his character is terribly flawed, that his moral compass is pretty much absent and his opinion of his talent is matched only by his opinion of his good looks.
Whatever your thoughts on Mayweather Jr's approach to life, I'd like to think that you can recognise a supremely skilled fighter operating at the very top of his game. If you don't think that Mayweather is 'all that', then I wonder whether this article might give you another way of viewing his ring prowess and indeed may lead you to consider emulating some of his style characteristics.
In this video analysis article, I am going to attempt to capture what I believe are the signs of a fighter at his sublime best. I am going to look at Mayweather Jr's  2009 domination of the superb Mexican Juan Manuel Marquez. Here is the video link and then below are some observations that leap out at me:
Floyd Mayweather Jr vs Juan Manuel Marquez
The Jab Mayweather Style
The jab is extremely important to Floyd and often in fights he has a very interesting way of using it. As he throws the shot, he pushes off the back foot and widens the stance (a stance that is pretty wide to begin with). This tactic allows him to go from the edge of range to long range. It also adds more mass to the shot (thereby increasing power), but no more than would be achieved than combining the jab with the conventional push forward.
The benefit of widening the stance in this way is that Mayweather in effect 'sneaks' into range so the jab can catch Marquez by surprise. The drawback is that when Mayweather widens that stance so much it means he is pretty much restricted to a single shot. A stance adjustment is required to follow up with the second shot. The wider than usual stance is a sign of a highly alert boxer, someone who is taking the opponent very seriously.
Lay Back and Relax
The way in which Mayweather combines individually simple skills is what for me makes him such a complete fighter. The most obvious and frequent demonstration of this is his use of the lay back combined with movement in and out.
Floyd remains constantly on the edge of range, inviting the opponent to commit punches. When punches do come he is able to use the layback and/or a simple push away to avoid them, often by mere millimetres, and fire back his own salvo. This allows him to be the proud owner of a punch success rate that few others in the sport of boxing can rival.
At 40:09, Mayweather performs a wonderfully precise lay back followed by a superb long range right hook and a roll outside (with the flow of the hook) to finish almost behind Juan Manual. For good measure Mayweather uses this move twice more during the round. A formula for success.
The thing to realize with this sequence is that Mayweather is using the lay back and the long range right hook in one sweeping movement. It is the ultimate display of counter punching. It would be easy to assume that it's just about hand speed, but that would be missing the point. It's about supreme timing and a little flare in the use of conventional skills.
An Eye for Trouble and the Reflexes to Match
Floyd Mayweather Jr has a unique 'eye for trouble'. His defensive strategy is as meticulous as it is unconventional. At 22:28 I want you to recognise a very common Mayweather tactic for dealing with the full frontal attack of the opponent. You will see that he keeps the palm of his right glove tucked to the side of his face, and raises his right elbow to point toward the opponent. He also raises his left elbow in the same way.
You will also notice that Floyd's attention (in the form of his fixed gaze) is on the opponent and the shots that are coming his way. Mayweather knows that in order for his incredibly quick reflexes to have any chance of being effective, he must have full visibility of the opponent.  But, what does the eye for detail and the 'elbow' defence achieve on behalf of Floyd?
The elbows being raised in this way provide a real and dangerous obstacle for the incoming punches of the highly dangerous Mexican. If Juan Manuel lands a full power left hook on the point of the elbow of Mayweather, then there is a real chance that he will break his hand. The same goes for that elbow smashing into the face of Marquez. This is a defence with a real 'bite'.
So whilst everyone seems to focus on the classic Mayweather defence of the left arm down, the chin tucked into the left shoulder and the right hand fixed against the face (sometimes referred to as the Philly Shell which I come onto later in the article), it's this elbow defence that really marks out Floyd for me in terms of a true 'block-type' defence.
Dictate the Battle
Mayweather does very little 'dancing away'. He holds his ground, carefully managing his position in relation to Marquez. If he backs away too much then Marquez can dominate on his front foot, an approach with which he is very comfortable, as indeed are most Mexican fighters.
By holding his ground and providing threat, Mayweather is in effect making Marquez fight a 'thinking fight' with him and there are few more talented and smart boxers than Floyd Mayweather Jr. He keeps his stance wide and keeps Marquez at long range as much as possible.
Changing the position of your head is always a good thing to do. It's one of the simple things and is extremely helpful when looking to avoid being hit. Most can do this using a slip (inside or outside) or a duck for example. Mayweather, whilst using conventional slips, also has a less conventional and very distinctive way of doing this.
Floyd basically bends at the waist. Well, to be specific he bends at the waist as the opponent drives forward. The opponent stops dead as his stomach slams into Mayweather's side. Mayweather then can hold and look to use the occasional short range punch. There's an example of this at 22:10, but to really see Mayweather use this tactic check out the Cotto fight.
This tactic is another of Mayweather's methods of controlling the attacks of the opponent, of dictating when and where exchanges of punching will happen. Let's remember here that he is in against an orthodox boxer (and a very good one at that), so bending as Mayweather does takes him into a 'safe zone', that is an area where Marquez cannot bring to bear his heavy right hand nor his potent left hook.
I know what you are thinking. "But Fran, in the article on ducking you said never, ever bend at the waist. So how is it bad if one of the best fighters around does it?" Before you decide that you are going to corrupt the slip/duck into a bend, you need to consider the following:
In the amateurs, bending at the waist in such a way will likely get you a warning from the referee for lowering the head. If it becomes habit, then it's often difficult for a boxer to adjust and stop doing this having been warned during a contest. Persistent warnings from the referee result in, well, disqualification. Not a great way to end a fight.

In amateur boxing time is at a premium. Let's remember when Mayweather bends at the waist he too is unable to throw punches. In a short duration bout of 3 or 4 rounds, it is vital that you remain able to throw punches for pretty much every second of every round. Over a 12 round professional fight the tactics dictate that a host of approaches are applied, one of which is this type of defence, so that the pace can be managed.

Mayweather bends to the side, not forward. Bending forward toward your opponent is extremely foolhardy and will get you knocked out. Mayweather never bends forward, only ever to the side and away from the assault.
Carry on Regardless
It would be easy to assume that someone like Mayweather is all about the bling, the flashiness, the image. Of course this is a big part of the Team Mayweather marketing machine, but what I see in Floyd is a super tough, super competitive athlete.
At about 24:49, Juan Manual Marquez lands a beautiful long range right hook. The shot catches Mayweather flush on the side of the jaw and rocks him to the soles of his boots. Floyd gives the Mexican legend a wry smile, but make no mistake that right hand hurt.
So, what is the Mayweather response? At 24:57 Floyd uses a lead hand feint to the body followed by the left hook to the head. Mayweather has used this attack a couple of times in Round 1 so clearly feels that Marquez is open to it. But, it is a high-risk attack because leading with a left hook against an orthodox leaves you open to a big right – so much for Mayweather being overcautious as some have suggested.
5 more seconds into the round (25:02), the lead left hook works, landing nice and short and dumping Marquez on his backside. After taking the big shot off Marquez, Floyd fights back hard to score a brilliant knockdown. That is the sign of a fighter at the top of his game; never come off second in an exchange and compete, compete, compete!
Focus On What Matters
I mentioned earlier the 'Philly Shell'. I spend some time looking at the various boxing training forums. It never fails to amaze me how some aspiring boxers believe that the cross-armed defence that Mayweather uses is the secret of his success.
My thoughts on the matter are very simple. I have already described in this article what sets Floyd apart. Maybe you have more aspects of his style that you feel make a major contribution to his success. That's great, and please feel free to submit them in the comments section below.
What I do suggest though is that this cross-armed defence is not at the core of Floyd's success. I think that because it's a very obvious style trait that it's easy to have your attention drawn totally to it. If we assume that the majority of forum users are boxing in the amateur code, then using this type of guard will cause more problems than it would ever solve.
If you really want to understand the style of Floyd Mayweather Jr, focus on what matters. Command of the ring, variation in attack and defence, an acute appreciation of range and always looking to hit back and dominate the exchanges. Oh, and don't forget, you have to be ultra-competitive in the gym and in the ring.
That should be easy then…
Related Articles:
by