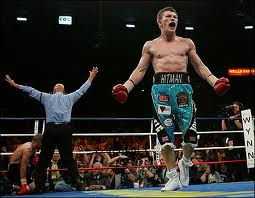 Walking in a Hatton Wonderland
Ricky Hatton is one of the most celebrated British fighters of all time. His simple charisma, his 'man on the street' approachability and his fantastically exciting style of fighting all appealed to the British fight fans and indeed the wider public.
Hatton flew the flag for Britain with great pride and wherever he boxed he took with him a level of support that often had American fight fans stare on in amazement, or a good deal of confusion anyway. You can count on one hand the number of times that the big fight venues in Las Vegas have reverberated with the sound of 10000 British fight fans chanting "Walking in a Hatton Wonderland" to the tune of the famous Christmas carol.
Oh yes, Ricky was adored by British fight fans, an adoration that for many transcended the conventional support of a sporting star and became a form of hero worship. I will put it this way, I'm sure that Amir Khan would kill for a fraction of that level of backing from the boxing world in the UK. Right or wrong it's simply not there for him.
Given the rather disastrous comeback of Ricky Hatton at the age of 34, I wanted to try to understand why Ricky was unable to recapture some of the form that saw him ascend to the top of the boxing tree. After all, in my article on Ingredients of the Greatest Boxers I suggest that a fighter's longevity, or ability to stay at the top for a long period, is a key measure of greatness.
The week after Ricky Hatton's defeat at the hands of Ukrainian welterweight Vyacheslav Senchenko, a defeat that undoubtedly removed any hopes of Ricky recapturing his early glory years, Juan Manuel Marquez knocked out Manny Pacquiao. Marquez at 39 apparently remains as effective a fighter as ever long into his maturity.
The Marquez performance made me want to understand Ricky's inability to continue on into his 30s and continue to deliver success to his own high standards. In this article I will seek to achieve 2 things. Firstly, I want to celebrate the style of Ricky Hatton by examining his 2007 encounter with Jose Luis Castillo, a fight in which the Hatton style was at it's most effective.
Secondly I want to put forward the suggestion that, however much the British fight fans adored Ricky Hatton and would have liked to see him fight indefinitely, he was destined to see his best years in his twenties and no more. It was simply not possible for Ricky Hatton to continue to fight into his early 30's, let alone any further on than this.
Ricky Hatton – The Wonder Years
Ricky Hatton's encounter with Jose Luis Castillo took place in the Thomas and Mack Centre, Las Vegas in June 2007. Castillo was a tough fighter and was credited with being involved in arguably some of the most exciting fights ever seen alongside the late Diego Corrales. If you get the chance, watch these fights.
So Castillo is tough, experienced and a well-skilled fighter. On this night though, everything that is good about Ricky Hatton is on show. It is little wonder that after this fight Hatton felt very confident in taking on a certain Mr Floyd Mayweather, one of the greatest fighters of all time. But that's for another article.
So, let's identify some of the key characteristics of the Hatton Style. Here's the video of the 4 round Castillo fight and below this are the observations that I have made on Ricky's style:
1. "Not a Step Back!"
The order 'Not a step back' was issued by Russian dictator Josef Stalin during the brutal fighting against German forces in the Second World War. Ricky Hatton takes a similar approach. As soon as the fight starts, he advances to Castillo and begins the 'shock assault'.
Hatton has a direct, intense style. He seeks to boss the ring, making sure that the opponent knows that he cannot switch off or relax even for a second. I'm careful here not to suggest that it's a 'throw caution to the wind' type of assault from Ricky. He uses the occasional foot feint to try to draw the lead of Castillo, this can be seen at 0.55 and throughout the fight. But his highest priority is to attack and get close, albeit with some slipping on the way in.
As a general rule, if your approach in the ring is attack, attack, attack then quite simply you must expect to take your fair share of incoming punches. Ricky is not afraid to deal with this. His upper body movement whilst not overtly defensively-minded does allow a number of Castillo's shots to miss the target. See 1.47 for an example of Hatton's upper body movement. Again, there's plenty of evidence of this throughout the fight.
Hatton's style is very direct. He has one method of fighting and that is to exert total pressure on the opponent that by and large was effective throughout his career, with notable exceptions against Mayweather and Pacquiao.
2. The Irresistible Force
As part of the very direct Hatton approach, Ricky uses his very considerable strength to out-muscle Juan Luis at close range. He is willing to 'wrestle' his opponent up close. This process is effectively a competition to find out who has the most physical strength. It's a key part of a fight, assessing the strength of an opponent and gradually bringing any advantage to bear.
I must admit that as a coach of amateur boxers, this type of wrestling is not something that I would (or should) coach. It's very much a trait of the professional ranks. That is not to say at amateur that the physical strength of an individual is not used at close quarters. The difference is that this would be in the form of a double arm block and body-to-body contact without the wrapping of arms.
The fact is though, Ricky in this fight and all of his others at light welterweight used his physical strength to wrestle and ultimately contribute to the level of effort that an opponent had to attain to stay with Ricky. He was physically a very, very strong light welterweight.
3. Quantity and Quality
The next aspect of Ricky Hatton's style that leaps out at me is the volume and variety of his punching. On his way in from long range to short range (he really likes to fight at close range), he likes to use the inside slip followed up with a jab in order to increase the leverage and torque of the punch. When that jab lands, it really, really hurts! This can be seen at 3.07 and often throughout the fight. This is a great move.
A further, more damaging, variation of the use of the inside slip to add 'whack' to punching can be seen at 4.36 where Ricky follows the inside slip with a double short range left hook. This approach avoids the Castillo jab and put's Hatton in the perfect spot to deliver his 'juiced-up' left hooks.
Once at short range, the number and quality of Ricky Hatton's punches is very impressive indeed. He rattles home hooks and uppercuts to the body and head with daunting regularity. Look at around 2.00 where we see 3 short range right uppercuts to the head, followed swiftly by a short range left hook to the head and a left hook to the body. Those shots are precise and hurtful and the variation of head and body mean that they have a much greater chance of landing successfully.
Further evidence can be seen at about 2.40 where Ricky let's go a diversionary right hook to the body followed by a forceful right uppercut to the head and a left hook to the head. This is very impressive infighting, as good as any you are ever likely to see in the boxing ring.  And then again at 6.19 with the right uppercut to the head followed by the right hook to the body, it's just great fight skills on show and some of the best body punching in the game.  If you want to learn body punching you could do worse than studying Ricky Hatton.
What Makes You Breaks You
I really enjoyed watching Ricky Hatton ply his trade. All action, intense and all-in-all a credit to British boxing. He will always have my great admiration and respect and I'm sure that's true across the spectrum in British boxing. Regardless of his losses to greats like Floyd Mayweather and Manny Pacquiao and more disappointingly the loss to Senchenko in his misguided comeback, Ricky has cemented his place in British boxing folklore.
But, and here's the thing, as far as I can see Ricky was destined not to attain the longevity of many of the greats of the sport precisely because of the fighting style that brought him success in the first place. What makes me say this?
The intensity and work rate of the Ricky Hatton fighting style requires a young man's strength, speed and stamina to execute successfully. It is not a fighting style that can be supported into the early 30's and especially into the later 30's. Generally, pressure fighters like Ricky do not stand the test of time unless their style develops into something different (think Roberto Duran).
Ricky Hatton had one style of fighting. He could not all of a sudden go onto his back foot, he was the epitome of a front foot fighter. A fighter like Marquez for instance can do different things. He can stand in the trenches and fight or he can counter punch (which is what he is best known for). In basic terms he can do different things to limit the incoming punches that he takes.
As a fighter ages, they may need to move up the weights. Now, many would assume that moving from light-welterweight to welterweight, a step of a mere 7lbs, is no big deal. Well, it is, and this makes those fighters who do it with apparent ease all the more impressive. The fact is that Ricky was very strong at light welter, and using this strength was a vital part of his style. At welterweight Hatton's strength was simply matched by his opponents. The 7 lbs made a big difference to Ricky. His strength and indeed punching weight simply didn't translate successfully into the higher weight class.
In short what I am suggesting here is that in terms of meeting that measure of greatness that is longevity, for Ricky Hatton the style that brought him so much success ultimately dictated that he would not have a prolonged career. He was never destined to fight into his 30s and indeed not in a higher weight class. What we need to do is appreciate his achievements as a top class light welterweight.
What I have not touched upon in this article is Hatton's well documented practice of really, really relaxing in between fights. His weight would increase dramatically and this process of having a yo-yo approach to body weight and fitness may very well have had an impact on his longevity. I for one could never criticise a fighter for kicking-back in between fights and enjoying life. After all, it's one of the toughest businesses there is and the demands of a 10-week training camp followed by a fight surely buys a fighter some leeway in the relaxation stakes!
Did Ricky's lifestyle foreshorten his career? I'm sure that there are plenty of nutritionists who would categorically state that it did. Maybe so, but for me it's irrelevant. OK he may have stayed around for a further 12 months, maybe slightly more, but the end result would have been the same. Ricky's destiny was to be a modern British great at light-welterweight.  A brilliant pressure fighter and someone who could lead masterclasses on infighting.
The great author Roald Dahl had a little poem that he used to recite, and in Ricky's case as a boxer I think that it fits perfectly:
"My candle burns at both ends it will not last the night, but ah my foes and oh my friends it gives a lovely light"
As always, your thoughts (positive and negative) are very much appreciated so waste no time in letting me have it in the comments section below.
Cheers
Fran
by